Raleigh Midtown Rotary Club
Who are we?  We're a new, diverse young club based in the vibrant North Hills Midtown area of Raleigh, North Carolina.  We like to think of ourselves as bringing a fresh approach to the traditional Rotary club format – we're less formal, with lots of energy, results-focused, fun-oriented and open to new ideas, and our meetings and events are structured to accommodate busy working schedules.
What do we do?  Our mission is true to the missi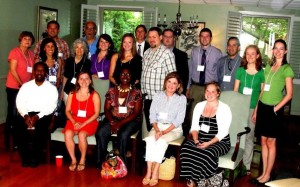 on that has powered Rotary for over 100 years: Service Above Self.  Key projects have included supporting the Kramden Institute, which provides computers to North Carolina students in need, and All We Are, an initiative providing solar power to schools in Uganda.
Want to learn more?  Come to one of our meetings!  We'd love to meet you. You can also reach out to us via our contact form and we'll be happy to answer any questions you have.
Ready to Get Involved?
Our club meets 6:00PM – 7:30PM on the 1st Monday of each month at The Renaissance Hotel in North Hills (directions here).  Gathering starts at 6:00 and the official program runs 6:30 – 7:30. We also have monthly social events and volunteer opportunities.  Watch our calendar for details, or reach out to hear the latest!  We would love to have you join us.